Park Martian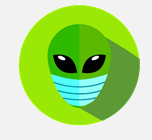 What is Park Martian?
Park Martian is a clever hide and find game held in West Windsor Township parks. Grab the family and head out to the parks. Find all of the Park Martian posters in the parks, complete the Park Martian Location Sheet and send it in to the Recreation Office for your chance to win an out of this world prize.
Why participate in Park Martian?
To encourage walking and to get some fresh air! Discover walking paths and parks that you did not know were in town. Have fun exploring nature! Something to do with the kids on "screen free" days from school.
Where is Park Martian?
Park Martian is hidden in various West Windsor Parks. See the list below for what parks have Park Martians and how many are at each park.
West Windsor Community Park – 9 Park Martians Duck Pond Park – 4 Park Martians
Ron Rogers Arboretum – 3 Park Martians Van Nest Park – 2 Park Martians
Zaitz Park/Zaitz Woods Nature Preserve – 1 Park Martian Millstone River Preserve – 1 Park Martian
Rogers Preserve – 1 Park Martian
For park locations, directions and trail maps visit https://www.westwindsornj.org/facilities.
How long will Park Martian be around?
Deadline for submitting the completed Location Sheet is Tuesday, June 1.
Where do I send the Location Sheet?
West Windsor Recreation, 271 Clarksville Road, West Windsor, NJ 08550 or email sheet to
What else can we do with Park Martian?
Post pictures of you finding Park Martian on Facebook or Instagram with the hashtag #parkmartian. We will award a prize for the best photo!